Our Company
Our Company aims to help you perceive what cannot be seen. We are microscopists, physicists, chemists and molecular biologists, we understand the need for tools to discriminate and identify that one cell in a billion. Our Company is focused on providing a complete system to label, locate and identify bio-molecular components of interest to the clinician, microscopist or scientist.
Label
We deliver solutions to directly label a targeted molecule in the cheapest fastest most effective way
Locate
With our technology we are able to locate that one cell in a billion. Our break-through technology allows for greater precision at far lower costs than has been conventionally available to labs in the past.
Identify
Through our advanced labelling and locating techniques, the identification of dangerous biomolecules has never been easier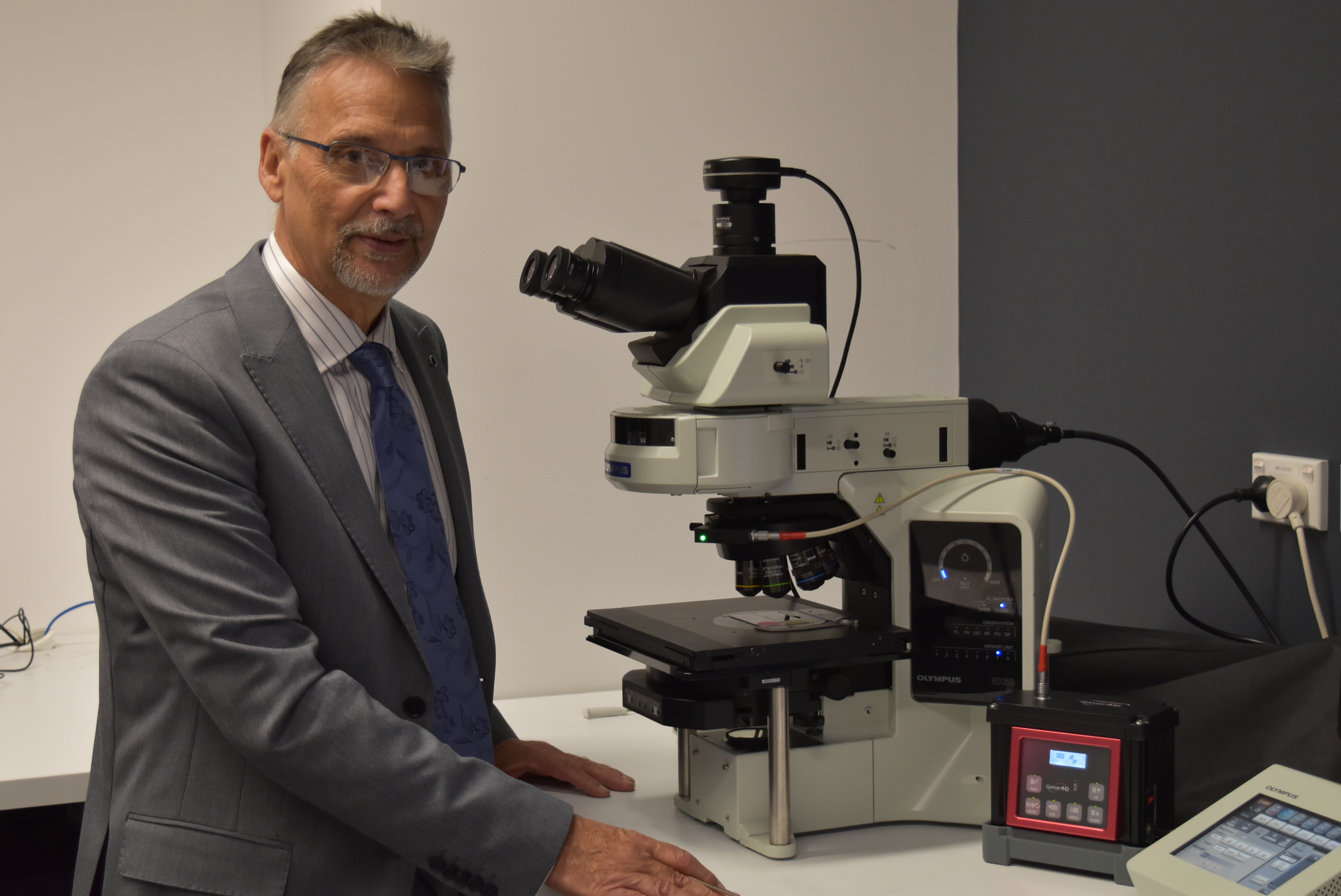 Russell Connally
CEO & Founder
Metallurgist to Biotechnology Graduate
Russell Connally grew up with a passion for chemistry and electronics, an unusual pairing but ultimately a very useful one. He was a qualified metallurgist employed by BHP until he decided to launch his own electronics business (Technitron) in Queensland. The knowledge gained through this enterprise helped him gain employment as the firmware team leader with Siemens Access Control (Sydney). It was at this time he enrolled at Macquarie University in a Biotechnology degree, graduating in 1997 and in 1999 he was invited to return to Macquarie University to commence a full-time MSc. on a project that required expertise in biology, electronics and software.
Award Winning Research to the early development of the GALD
As part of his MSc. project, he commissioned a flashlamp excited time-gated luminescence microscope. As the project grew, the MSc. was converted to a PhD and his thesis "Enhanced Detection of Microorganisms in Autofluorescent Environments Through the Application of Time-Resolved Fluorescence Microscopy" was accepted by Academic Senate in November 2004. Dr Connally won a prestigious Macquarie University Research Fellowship in 2005 (commencing in 2006) and the high quality of his research was recognized at the annual Macquarie University Innovation Awards in 2004, 2005 (two awards) and in 2006 his team won the Macquarie University Innovation awards for Innovation in Research, Invention Disclosure Award and Postgraduate Innovation Award (for his student).
New Inventors to the Development of the Gator4D
In 2010 he appeared on the popular science show 'New Inventors" (episode 22) to demonstrate the Gated Auto-synchronous Luminescence Detector (GALD), winning both the judges and popular choice vote for best invention. The GALD was also recognized at the 2010 Engineering Excellence awards receiving highly commended awards in two categories. Dr. Connally left Macquarie in 2011, however he maintains a strong connection with the University as an Honorary Fellow and continues to publish research articles in collaboration with his colleagues. He is listed on six patent applications, the most recent being lodged in 2016 by Macquarie University for a novel luminescent protein construct. He launched Gator4D P/L in 2015 to bring a refined version of the GALD to the market and at the same time founded Fluro4 to synthesize the unique luminescent dyes that are required by the Gator4D.
Articles and Studies based on the technology in GATOR4D and Fluro4

he sensitive detection of delayed luminescence (τ > 100 μs) can be achieved with an optomechanical instrument, the gated autosynchronous luminescence detector (GALD).
Read Here

Luminescent lanthanide chelates have been used to label antibodies in time-gated luminescence (TGL) bioimaging. However, it is a challenging task to label directly an antibody with lanthanide-binding ligands and achieve control of the target ligand/protein ratios whilst ensuring that affinity and avidity of the antibody remain uncompromised.
Read here
Find Us
LAB C379 CSIRO Materials Science and Engineering
36 Bradfield Road, Linfield West,
NSW 2070, Australia
MONDAY - FRIDAY


08:00 - 18:00
SATURDAY - SUNDAY


18:00 - 22:00